Give a Healthy Twist to Your Desserts for a Guilt-free Festive Indulgence!
Diwali is incomplete without indulgence in traditional sweets and desserts! But, what if you are on diet or don't want to gain weight over time? Try some smart tips to stay healthy during the festive season.

Time starts to peruse the dessert table as the festive season is here! Worried that how to control your taste buds there are so many binge-eat mouth-watering traditional desserts like halwa,  jalebi, laddu, malpua, gulab jamun, barfi, and many more that you cannot resist.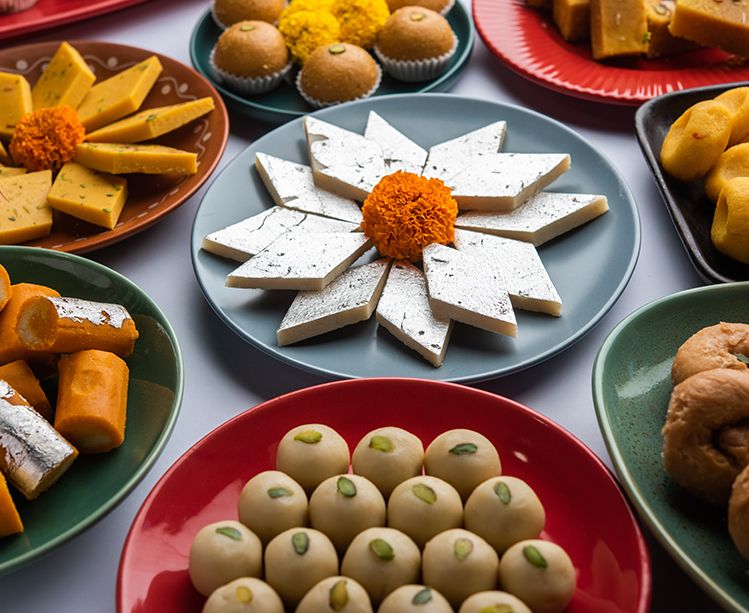 Eating too many sweets can lead to weight gain over time. Don't worry! Indulge in the sweetness of your favorite desserts this Diwali. Give a healthy twist to your dessert recipes to eat without guilt. Read to know more.
How can we make Diwali healthy?
Don't give up on your sweet tooth this Diwali! Just let the magic of this festive season surround you with unlimited happiness and eating of mouth-watering traditional delights! What and how much to eat to stay fit and healthy during this festival season? To solve your confusion, here we are sharing strategies to help you to keep your intake healthy.
# 1 Don't Skip Your Meal or Remain Hungry For Too Long
Make sure you don't skip your meal because of any hectic schedule or timeline. Food gives you energy while an empty stomach leads to dizziness, weakness, nausea, and other conditions that could spoil your festive spirit. Eat sensibly as it helps in the prevention of overindulgence in tasty festive treats.
#2 Start Your Day with a Healthy Breakfast
You should have a healthy heavy breakfast including low-fat protein, wholegrain, fruits, and other nutrient-rich items for energy metabolism. Nuts like cashews, peanuts, and almonds are rich in nutrients and an excellent source of protein.
#3 Avoid Overeating
Eating too much is always bad! Your brain takes a while to signal that your stomach is full. Eat slowly till the time you are no more hungry, not to you feel full or have overeaten.
#4 Be Clever About What You Are Eating
Always give preference to food items that are fiber-rich as they make you feel fuller for longer.  Identifying which festive dishes can trigger overeating and being conscious of them can help decrease the chances of overeating. Use DrTrust 360, a nutrition calculator app simply to know the related nutritional facts of the desserts on your plate.
#5 Control Your Portions
Remember to eat sensibly by working towards controlling portion sizes. Try to add small portion sizes of each item as this will allow you to enjoy everything without going overboard.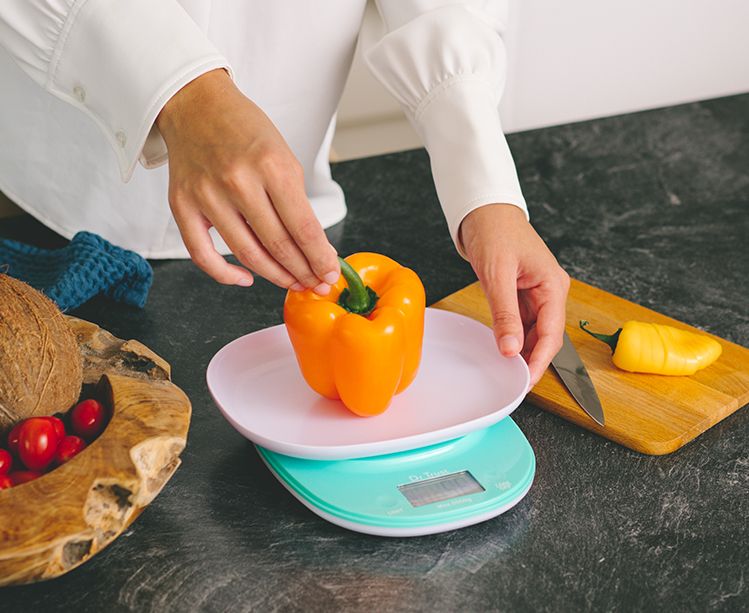 #6 Add on More Fruits and Vegetables
Incorporating fruits and vegetables that are rich in fiber and low in fat keeps your gut healthy. Carrots, pumpkins, blueberries, bananas, amla, spinach, potatoes, and avocados are healthy options. They all are low in fat with high in nutrients.
#7 Increase Your Water Intake
The next simple rule to follow is; drink more water throughout the day to stay hydrated. You can also sip on water infused with saunf, ajwain, mint, and slices of lemon & cucumber to make water more refreshing. It also aids digestion.
# 8 Avoid Drinking Calories
Quitting drinking soft drinks, soda, and alcohol will also help. These calorie-rich drinks make you gain weight by slowing your metabolism and adding more calories. Instead go for natural drinks like rose water, Jaljeera, lemon water, and others.
# 9 Focus on Socialising Rather Than Eating
Don't listen if your relatives are insisting to eat more instead eat slowly and focus more on socializing.
#10 Use small-sized plates
Using a smaller plate instead dinner plate will make you feel that you are eating more. This way, you can reduce your calorie intake by satisfying your desire for sweet foods.
Give a twist to your favorite mouth-watering dessert for healthy eating
Enjoy the gladdest time of the year to the fullest with your family and friends without giving up on your sweet tooth. Just navigate around the available varieties of sweets and desserts before indulging to prevent weight gain over a period of time.
Ditch cooking halwa in desi ghee with sugar. For a healthier halwa recipe, opt for sooji, Rawa, and carrot with sweet fruits as healthy options. You can also bake the mix of everything with no ghee in a microwave.
There are so many yummy healthy laddu alternatives! Consider making Ragi Ladoo, Sesame Ladoo, Atta Ladoo, Rava Laddu, Sooji Laddu, and Chana Dal Laddu and they all are healthy. While Jowar is a gluten-free high-fiber option for people with chronic diseases, especially diabetic people. It also helps control cholesterol and cardio issues. If want something unconventional for Diwali binging, add a fruity dimension to your Diwali desserts.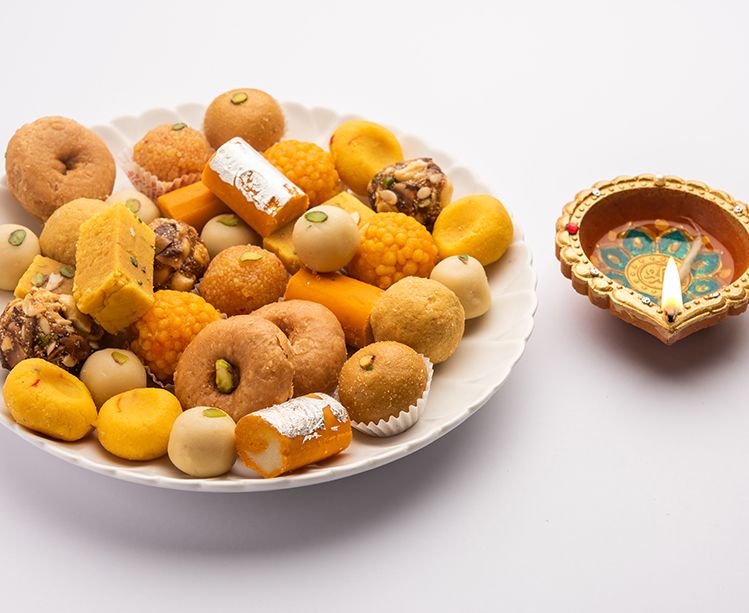 Additionally, regular monitoring is required, for patients with chronic conditions like hypertension, diabetes, etc. for a general health review. If you have any of these conditions, keep an eye on your numbers with USFADA-certified Dr Trust health monitoring devices for any health emergency.
Wishing you a very happy and prosperous Diwali!