Your Essential Guide to DrTrust360
A nutrition logging-in app in combination with an AI Diet Plan can correct and prevent the risk of eating disorders by tracking your calorie and macros intake.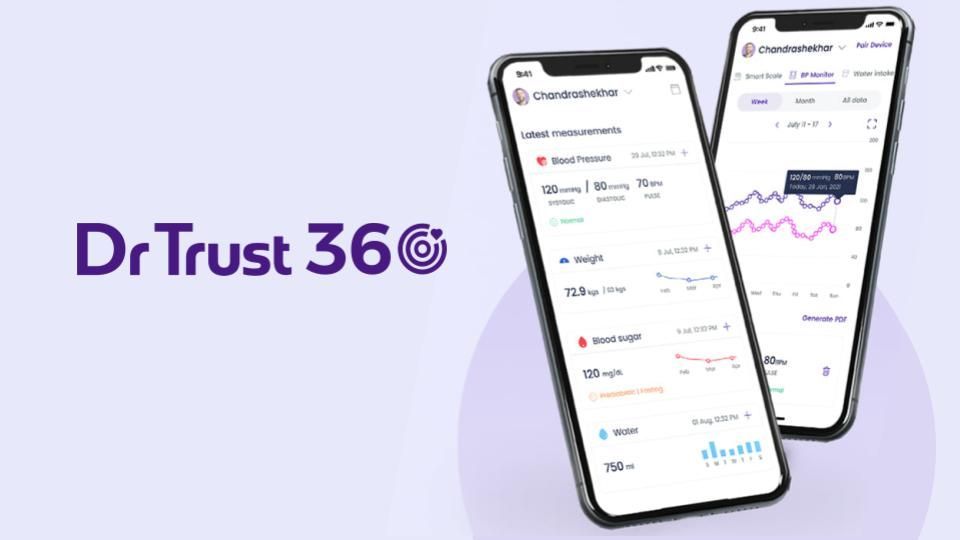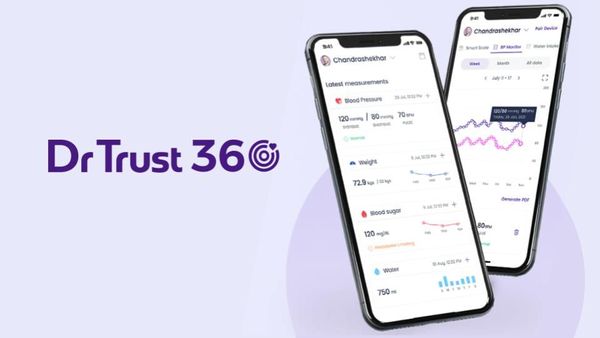 Like other fitness apps, this fitness app can also help you track your daily fitness activities as steps walked, calories burned, calories consumed, and even your hydration levels on your phone. Also, this data can be synced with Google fit and Apple Health on your phone.
Then how does DrTrust360 stands out from other apps?
This app is specifically designed to connect all your health monitors including heart rate, Oxygen levels, Blood pressure, blood sugar levels, and all body metrics in one place. The app seamlessly pairs with smart DrTrust devices including a Healthpal smartwatch, weighing scale, blood pressure monitoring, blood glucose monitoring, and ECG monitoring devices via Bluetooth.
Not only do you have access to your health record, but you can also share your body metrics, blood sugar, blood pressure, and even your nutrition report with your doctor, your family member, and your dietician or trainer.
Alternatively, if you own a non-smart DrTrust device, the SmartSensei™ - AI-based OCR technology makes you to scan and recorded reading using your phone camera to get access to your data on the app directly.
You can also get a smart AI Diet Plan, a personalized diet plan for weight loss, muscle gain, PCOD, Hypertension, Diabetes, and Thyroid with detailed guidance and supportive nutritional tips from our expert nutritionists to achieve your fitness goals.
The App also allows you to calculate your health risk score to predict the onset of type 2 diabetes.
You can enjoy a restful sleep, reduce stress, and reduce your anxiety with mindfulness content from experts around the world in the same app.
You also, get exclusive easy-to-follow Yoga lessons to improve flexibility and heal your health and soul.
So, it is an all-in-one fitness and nutrition app that helps you analyze your fitness trend and set a healthier target.
The overall aim is to revolutionize healthcare, decrease hospital dependencies and encourage remote care culture in India.
Get started with DrTrust360
Step 1. Simply download the DrTrust360 app on your phone from the play store / App Store. Alternatively, you can scan the QR code on the DrTrust devices which redirect to Play Store/App Store to download the app.
Step 2. Create a new account or Log in with your phone or email.
Step 3. After successful login, you are directed to the home screen where you can explore all the above fitness features and set your health goals.
Step 4. Create single or multiple profiles depending on the number of users on the same device.
Set Your Health Goals in Drtrust360
Setting your health goal will help you by providing information on your daily calorie intake, the steps you should walk daily, and the amount of water you should consume to achieve and sustain your health goal.
You can easily set your health goals according to your health status, following these simple steps:
Step 1. As you enter your health goals, you'll be asked a questionnaire on your current health status initiating with what you are trying to achieve.
Step 2. You can choose your option whether you plan to maintain weight, lose weight or gain weight.
Step 3. Subsequently, you'll be asked your current and targeted weight if you are trying to lose or gain weight.
Step 4. According to your stamina, you can choose how much weight to lose in a week with a minimum of 0.25 kg to a maximum of 1 kg. The screen will display the calculated calories following the weight that you wish to lose in a week.
Step 5. The questionnaire proceeds with seeking information about your activity level from sedentary to very heavy exercise per week following the information on your health condition of Diabetes, Hypertension, Overweight/Obesity, PCOD, and Thyroid.
Step 6. The final screen displays the total calories, macros, daily steps, and water recommendations for the day specifying the estimated date by which you'll be able to achieve your goal. You can save your goal, make that effort and keep track to hit your health goals.
How does App calculate the calories you take in?
Step 1. Enter your weight and height manually while creating your profile. Alternatively, track your weight with DrTrust smart weighing scale and pair it with the app. The app will calculate a recommended daily calorie intake according to your weight and height and track the calories with each meal for a day or entire week.

Step 2. As you enter the food section, the nutrition screen displays the data on your daily calorie intake with information on daily macros intake. The nutrition database in the app is extensive and provides a well-designed food diary mentioning the calories and macros in 1,00,000+ Indian and global food items. Step 3. Click on the meal you want to log in to. For that, you need to simply type the name of the meal you are having in breakfast, morning snack, lunch, evening snack, and dinner, in the search bar with the quantity you are having and the app will automatically display the calories and macros in that meal. Keep Adding the number of items you are having in the same meal.                                                   Step 4. Log 3 or all 5 meals depending on the diet trend you are following.
Besides, the water log feature is available on the same screen to keep a track of your hydration levels.

The nutrition page provides a clear picture of how many calories and macros you need in each meal and how much you've consumed in each meal. In addition, it also shows your remaining recommended intake for each meal.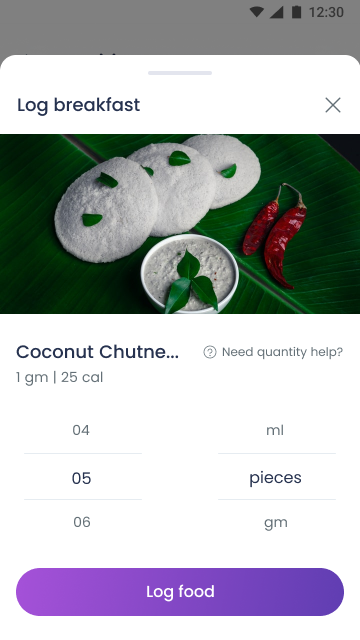 If are not sure about what to eat and in which portion, you can get a diet plan customised. In that case, you are being directly supervised by the coach for your calorie intake which will eventually prevent you from the risk of indulging in an eating disorder.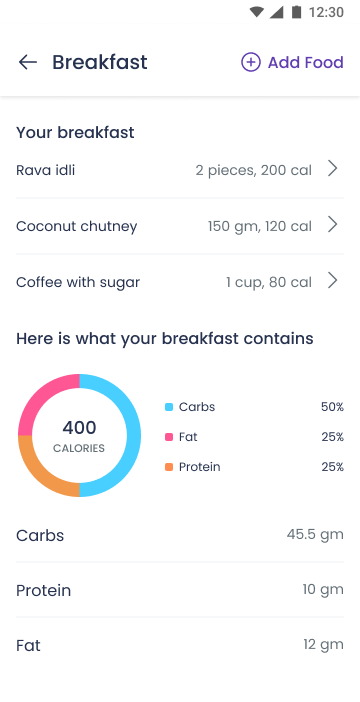 How does the App support SmartSensei™ - AI-based OCR Technology?
The SmartSenseiTM- AI-based OCR technology is an exciting feature that intermediates a non–smart DrTrust devices and your phone, allowing you to capture the image displaying reading from your BP monitor, Glucometer, and Oximeter and converting the data on the image into an editable format in your phone. Follow these simple steps to get started: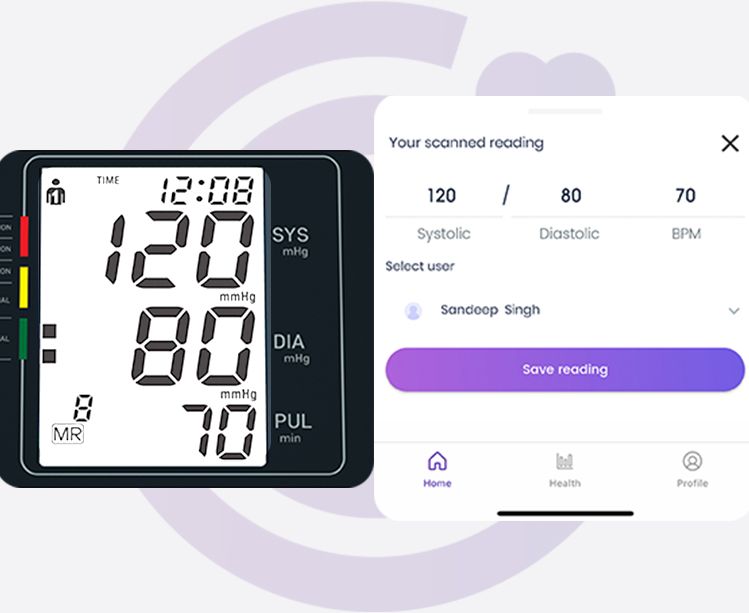 Step 1. As you switch to the Health page, click on the pair device option that will redirect to the screen where you get to scan the reading from your non-smart DrTrust device on the app.
Step 2. Capture this reading and click to save get the reading as an editable format on your phone.
Step 3. Share this reading with your doctor to get real-time health advice.
Takeaway
If you are trying to lose, gain or manage weight, then Nutrition logging is an extremely helpful feature.  This feature in combination with an AI Diet Plan can correct and prevent the risk of eating disorders by tracking your calorie and macros intake. It will recommend you make specific alterations to your diet in a way to balance your carbs, protein, and fat intake.
Another exciting SmartSensei - AI-based OCR technology supported by DrTrust360 is an incredible feature to have a real-time reading of blood pressure, blood glucose level, and oxygen level on your phone that you can easily share with your health guardian for real-time consultation.