Booster Shots: India's vaccination drive against COVID-19
A COVID- 19 Booster dose is an additional administration of a COVID-19 vaccine after a primary dose to restore the effectiveness of the vaccine.

This article is concluded with a meta-analysis of an existing set of circumstances on booster dose of the Covid-19 vaccine from government sources and hope it provides a clear picture of what's being portrayed outside.
In January 2021, the Drug Controller General of India (DCGI) approved emergency use of COVID -19 Vaccine - Oxford–AstraZeneca, developed by the University of Oxford sold under the brand name of "Covishield" and BBV152, developed by Bharat Biotech and sold under the brand name of "Covaxin", in association with the Indian Council of Medical Research  (ICMR), New Delhi and National Institute of Virology (NIV), Pune.
So far, 80.3% of the eligible population has been successfully administered with 2 doses of COVID-19 vaccines whereas only 3.4% of fully vaccinated have been administered with the Booster or precautionary dose (data till 9th May 2022) with an average rate of 1000 vaccines/minute for the second dose and 300 vaccines/minute for a Booster dose.2 This rate seems relatively low in comparison to the administration rate of the second dose. This rate is low on the account of - not bulk population is yet eligible for booster dose (not completed the time gap of 9 months) as per guidelines of the Ministry of Health and Family Welfare. Additionally, there is reluctance amongst the population about its effectiveness and misconception about its side effects.
For that reason, there is a need to get in acquaintance with the COVID-19 Booster shot and resolve this confusion.
What is a COVID-19 Booster Shot?
A COVID- 19 Booster Dose is an additional administration of a COVID-19 vaccine after a primary dose to restore the effectiveness of the vaccine.
After two doses, the COVID-19 booster dose will provide a re-exposure to COVID-19 and its variants (delta and Omicron).
For instance, for an adult who has never received a tetanus shot, the first two shots of tetanus are given 4 weeks apart, the third shot is administered 6-1 2 months after the second dose, and later booster shots are recommended every 10 years.
Similarly, a Booster dose of the COVID-19 vaccine will boost immunity against COVID-19 and its variants (delta and Omicron) to maintain antibody levels before memory against COVID-19 and its variants (delta and Omicron) fade away with time.
As new variants of COVID-19 are outspreading globally, Additional doses of a vaccine may be required in the future for the beneficiaries with weak immune systems to secure a sufficient level of antibodies against the virus.5
What are the side effects of Booster Shot?
In India, the trial with a booster dose was conducted on healthy male and female volunteers in nine hospitals. This trial was approved by the National Regulatory Authority (India) and the respective hospital Ethics Committees and conducted in compliance with all International Council for Harmonization (ICH) Good Clinical Practice guidelines.4
It was demonstrated that antibodies against COVID-19 increased after the booster dose. The booster dose was well tolerated with few adverse events that were resolved within 24 hours of onset. The most frequent being mild and transient pain and itching at the injection site with no severe or life-threatening effects.
In another finding, the administration of the Booster dose lowered the risk of hospitalization to 81% for ongoing Omicron variant as compared to unvaccinated cases. 1
On that account, the Booster dose is safe and necessary to ensure persistent immunity against breakthrough infections followed by COVID-19.
Does my COVID-19 booster dose have to be of the same brand as the first two doses?
In India, no mix and match of booster doses have been reported yet. However, a recent clinical trial was conducted in CMC Vellore under the supervision of Prof Gagandeep Kang. According to it Booster doses or Additional doses can be mixed and matched.5
It means that beneficiaries who have been administered Covishield as their first and second dose can receive Covaxin as their third dose. Similarly, those who have received Covaxin in their first two doses can receive Covishield as the third dose.
This mix and match approach has not been approved by the government authorities yet, due to the lack of insufficient data on the effectiveness of mixing vaccines.
Whereas this approach has been successfully executed among the population of the USA and UK, where the FDA has authorized three vaccine boosters — Pfizer-BioNTech, Moderna, and Janssen-Johnson & Johnson — and determined that it is safe to get a Booster or Additional dose that is of a different brand than the primary doses.6
Who can get COVID-19 Booster Shot?
As per the Ministry of Health and Family Welfare, beneficiaries aged 18 years and above who have completed 9 months after the second dose are eligible to get booster doses from April 10, 2022, at private and government vaccination centers. Whereas, health and frontline workers and those above 60 are eligible for Booster doses since January 10, 2022.3
Currently, all the beneficiaries above 18 years of age can get a second primary dose after four months of the first primary dose and a booster dose after nine months of the second primary dose.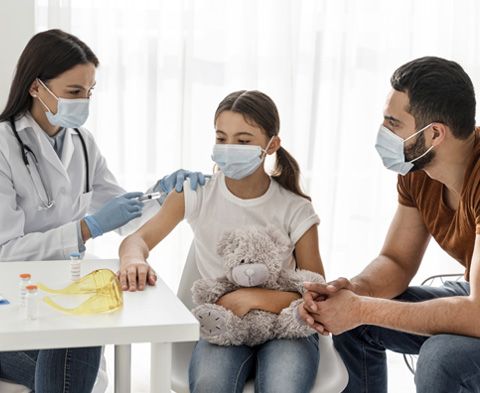 Also, Children and teens above 12 years are now eligible for the first primary dose of Covaxin on 16th March 2022.
Here is the list of COVID-19 vaccines available in India with deployment dates and % usage: 7
| | | |
| --- | --- | --- |
| | | |
| COVID-19 vaccines In India | Deployment date | % doses administered |
| Covishield | 16 January, 2021 | 80.78 % |
| Covaxin | 16 January,2021 | 16.73 % |
| Sputnik V | 16 May,2021 | 0.06 % |
| Corbevax | 16 March,2022 | 2.21 % |
You may register online on CoWin or visit a private or government vaccination center to get the Booster dose.